Nadir Jones is Head of U.S. Product for TD Auto Finance. In this role, he leads Product Development and Strategy, including pricing, business systems, auto vertical, and digital strategies.
Prior to his current role, he served as Head of U.S. Retail Credit Management, Governance & Controls where he was responsible for leading TDAF's risk and regulatory efforts for our retail portfolio.
With almost two decades of experience in the automotive finance industry, Nadir has served in various management capacities in locations throughout the U.S., India and the Philippines, with organizations such as Ford Motor Credit, Hyundai, and Chase Auto.
Prior to joining TD Auto Finance, Nadir served as Managing Director - Head of Business Banking Credit Risk & Underwriting at JPMorgan Chase.
Nadir is passionate about advancing diversity, inclusion, and social justice. He serves with distinction as the AMCB co-lead for the Minorities in Leadership (MIL) pillar and served as the Chair of the Diversity & Inclusion Action Group (DIAG) with JP Morgan Chase, Consumer & Community Banking Division. Through his fraternity Phi Beta Sigma, he also focuses on community service and mentoring high-risk youth.
Nadir is a graduate of Fisk University. He is certified by the Association of Finance & Insurance Professionals (AFIP) and holds an Executive Risk Management certification from The Wharton School.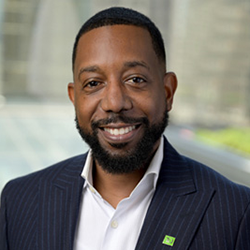 TD Auto Finance - RouteOne Board Member