Gino Caputo, Senior Vice President & Head of TD Auto Finance Canada, TD Bank
Gino leads TD Auto Finance Canada, a leading full-spectrum auto lender. With centres across Canada, TD Auto Finance offers comprehensive dealer support and financing in the automotive and recreational space, and was named #1 in the J.D. Power Dealer Satisfaction Study among Non-Captive Lenders with Retail Credit for the last four years.
Previous to this role, Gino led the Business and Commercial Banking teams in the Greater Toronto Area, serving business and non-for-profit customers across all industries. Gino brings over 26 years of diverse leadership at TD having gained experience in mid-market commercial banking, retail banking, banking operations, finance, product management, risk management, business strategy & transformation, business architecture & program management, data governance & analytics and employee & customer experience.
Gino holds an Economics Degree from York University, Chartered Finance Analyst (CFA) and Chartered Investment Management (CIM) Designations.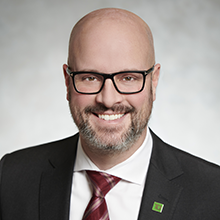 TD Auto Finance - RouteOne Board Member