Russell (Russ) Walsh is the Chief Financial Officer for Dealer Financial Services at Ally Financial. He and his team are responsible for financial reporting, planning and key analysis for Ally's Automotive Finance and Insurance segments. The auto business is one of the largest lenders in the United States. Over the past five years the team has reshaped business strategy, improved returns and increased dealer profitability. Russ has worked at Ally Financial for the past 11 years, all within the finance organization, in roles of increasing responsibility.

Prior to joining Ally, Walsh worked at Cerberus Operations and Advisory Company for 2 year where he helped drive the turnaround of GMAC (now Ally). Prior to that Russ worked for 11 years at GE Capital, all within its consumer finance business. He is also a graduate of the GE Capital Financial Management Program.

Walsh earned a bachelor's degree in Economics and Business from Lafayette College, in Easton, PA.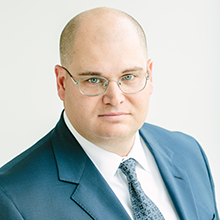 Ally Financial - RouteOne Board Member